College Counseling Education Program
Got CCEP?
Customizable, on-demand professional learning for college counseling professionals, aligned with California Performance Expectations for the PPS Credential
Is your credential older than your students are?
Or maybe you're not sure if you are ready for a full graduate program in counseling?
Have prior college counseling experience, but want to fill in some gaps?
Introducing…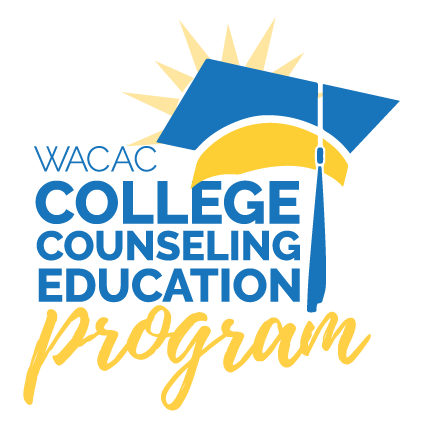 HERE'S HOW IT WORKS: 
Attend 10 sessions (see example sessions below) and write up reflections

Do two college visits + visit reports

Create your professional learning plan (don't worry, we have templates!)

Submit a completed Portfolio for review

Get your certificate!
WHAT'S THE TIMELINE?
Registration is ongoing – no time like today to sign up!

Work at your own pace, combining live professional learning opportunities with recorded sessions to create a totally customized learning experience

When you're ready, compile your completed Portfolio – 10 Session Response Forms, 2 College Visit Reports, and your Professional Learning Plan – and submit.

Portfolio review dates are April 1, August 1 and November 15, annually.

WACAC will provide you with confirmation of your successful completion of the program, along with a certificate and a badge for your email signature.  
WHO'S IT FOR?
Counselors – and future counselors- in all states who work across settings

High School Counselors – public, private, parochial, charter

Independent Educational Consultants (IECs)

Admission folx looking to explore new opportunities

Counselor educators

Counseling interns and graduate students
WHAT'S IT ALL ABOUT?
Learn practitioner and research-based strategies that satisfy the Performance Expectations outlined by the

California Department of Education PPS credential requirements for college counseling

.  

Attend ten (10) in-person and/or virtual professional development workshops completion of Session Response Forms

Opportunities include Share, Learn, and Connect events and/or the WACAC Annual Conference, as well as NACAC, CSAC, and UC/CSU Conferences

Tour two (2) college campuses and complete of College Visit Reports

Create a Professional Learning Plan

Submit a completed Portfolio for review
COST
$150 for the Certificate Program does not include membership or fees for SLCs or the Annual Conference.
FAQs:
I already have a credential – is this for me?
Maybe!  The certificate may be a good match for you if:
You are looking  to meet the education requirements for new PPS credentials based on California Commission on Teacher Credentialing Performance Expectations.  

You are looking to expand your college counseling knowledge

You have an older credential, or a degree earned in a time and place when college and career readiness was not a part of your studies

You are considering a career move that will include an emphasis on college counseling
Can I complete the certification without a huge budget for professional learning?
Membership in WACAC is free to public school counselors and counselors associated with Community-Based Organizations (CBOs). While some recorded webinars are available for free to members on the WACAC website, participants will likely have to register and attend one or more of the Share, Learn and Connect (SLC) programs which offer approximately 25 sessions every February and March and / or the Annual Conference in April, which schedules over 80 presentations. Registration for the SLCs ranges between $35 and $85 and for the annual conference registration ranges between $300 and $350.
Who is behind this program?
WACAC, The Western Association for College Admission Counseling, is a non-profit volunteer organization with a membership of over 2300 high school, community college, community-based organizations, independent, and college admission counselors.
What are the Required Topics?
Creating a College Going Culture (recommended as first one) (RCCC)

Understanding Financial Aid Applications, How Financial Aid is Awarded and How to Create Financial Aid Awareness (RFA)

Reviewing Transcripts and Understanding A-G (RA-G)

Understand the Common Application and the Application Process for Private and Out of State Universities (RCAP)

Knowledge of University of California and California State Admissions Criteria and Application Process (RCPB)

Understanding Community College Options, including concurrent and dual enrollment and understanding the transfer process (RCCT)

Private and Out of State Colleges and Universities, Common Application (RPCA)
What are the Elective Topics?
Choose three Elective Topics:
Knowledge of Writing Letters of Recommendation (ELR)

Knowledge of the NCAA and NAIA and The College Admission Process for Athletes (EATH)

Understanding of College Application Process for International Students and the TOEFL (EINT)

Understanding of Standardized Testing and College Admissions (PSAT, SAT, ACT, AP, IB) Including Process for Accommodations (ETST)

Knowledge of the College Admissions Process for Students with Disabilities (ELD)

Knowledge of the College Admissions Process for Students Pursuing Fine and Performing Arts (EVPA)

Knowledge of Admission to Military Academies and ROTC (EMIL)

Knowledge of the Western Undergraduate Exchange Scholarship Program (EWUE)